I love making these bags! The pattern is the
Grocery Tote by
Keyka Lou. She sells both on Etsy and via her store. So far, I've sewn up two of her bags and they are wonderful. Easy and clear directions and not a bunch of stuff that you really don't need to see in her pictures.

I made these today out of some left over fabric (I'll make another post later this week showing the tunic I made and reviewing that pattern). The bags are reversable and washable.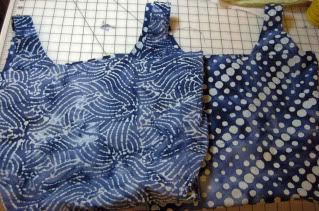 Last year I made these at the end of the year for all of the kids teachers. It was great because they got to choose the fabric and personalize them. The teachers all loved that their bags were made with prints in their favorite color or favorite colors (or both). I'm always getting asked where I got the bags when I'm out and about at the stores too. My youngest daughter even has one with pink dogs on one side and Disney princesses on other.